Slutwalk Delhi – a Photoessay, published in Sunday Guardian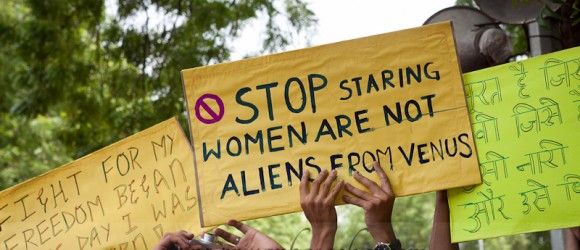 Slutwalk Delhi or 'Besharmi Morcha' was conducted in Delhi on 31st July. I attended it and clicked photographs there. Those who don't know what Slutwalk is, can do with a bit of background first. Some of these images got published as a photo essay in the Sunday Guardian yesterday. The article had a short description of the event and mostly the pictures speak the thousand words :).
Slut Walk Delhi, renamed the Besharmi Morcha to suit Indian sensibilities took place on 31 July. Both women and men were expected to actively participate and support the cause. But though some 700 people turned up, not many women did, most likely because no one wanted to be part of a rally where they would be ogled at. However it was heartening to see men support the cause and take the lead. To ensure a peaceful protest there was considerable police cover, including women cops. Delhi Drum Circle and Asmita Theatre Group performed at the event. The media portrayed the event as a damp squib, but the energy at the event was palpable, and it was heartening to see men educating one another about acceptable behaviour.
The photo essay can be seen here – [jpg doublespread], [pdf Page 1], [pdf Page 2] . A 'very low res pics' version of the article is online as well.
The entire album from Slutwalk Delhi can be seen at my Facebook page. It got a lot of attention nationally and internationally thanks to the nature of this event.